You have always known you are meant for more.
More than just getting by.
More than just living by other people limitations.
Now is your time to become more.
No more hiding behind your Fears or making Excuses.
No more allowing Limiting Beliefs or Labels keep you feeling small anymore.
It's your time to take this leap… discover your true potential and gain all the confidence in the world.
Creating massive change in your life is scary. Believe me, I get it. 
But you know what's even more frightening? Letting life pass by, and standing in this same spot 5 years from now wondering what it could have been like if you would have just dove inwards, got uncomfortable to grow and leveled-up to the person you know you're capable of being. 
Unapologetically.
If we could break through all of the things holding you back from shining your light, gaining clarity and feeling excitement for the life you're living….
… You would be totally unstoppable, wouldn't you?
Are you ready to step into the you, that you envision and see clearly?
Learn how to be unapologetic, confident and take charge of your life, effortlessly?
No more blocks. No more people pleasing.
No more hiding behind your fears.
This is your time, sister.
I have been there, I feel you. Up until the age of 28 I was hiding behind my own limiting beliefs, people pleasing, false ideas about myself.
I battled eating disorder for 18 years, filling the emptiness I felt inside of me with food and other numbing like over working out at the gym, shopping things I didn't' needed, and being in toxic relationships where I was outsourcing my worthiness and when I was 18 I ran away from home into relationship that almost killed me. Literally. I attempted for suicide not seeing a reason why to be here.
I felt like I was doing all the right steps – going to college, university, getting my bachelor degree, my masters degree, getting married, being a good daughter, wife, friend, being everything for everyone…and yet, feeling lonely and unfulfilled.
On the outside, it looked like I had it all together. Great corporate job, husband, good body, travels, but on the inside I was slowly dying.
People assumed I had all the confidence in the world because I was outgoing, but little did they know how much anxiety I felt, how much fear creeped up for me, to be judged, to not belong.
Finally, I had enough… I dove into personal development books and videos online to learn how to be happy. How to live a life of meaning. I hired my first Life Coach and the rest is now history.
This journey allowed me to realize what my blocks were, see my true potential and step into the leader I was meant to be.
Now, I can't imagine living any other way…continuously doing the work on myself to keep growing and helping other women around the world to do the exact same thing. Like You.
I'm here to help you to get out of your own way.
I'm here to make being stuck a thing of the past.
It doesn't matter if you've never done any personal development work or are a seasoned pro. 1:1 Life Coaching with me is different than others out there, as the tools, experiences, and tough-love I will provide you with to help you grow, allows you to stop talking, wishing and hoping and actually transform your mind and life.
After our time together, you'll have removed all the blocks that have been holding you back, end self-sabotage, dissolve all limiting beliefs and have the tools, strategies and everything you need to continue to level-up in all areas of your life. You'll become who you're meant to be. The processes I'll take you through are proven to work, so you can improve every area of your life: confidence, self-love, relationships, career, financial and so much more…
Why?
Because you are the common denominator of your life.
When you become more of who you really are, everything in your life improves.
Some of the areas we may dive into, as I meet every woman where they are and go from there:
Your past and how that's affecting where you're at now: Let's learn, accept, heal, grow and thrive, heading forward.
Dissolve your Blocks and Limiting Beliefs: Hidden blocks and excuses that you don't even realize you're giving, that are holding you back are going to be a thing of the past for you. During our time together, you will learn how to hack your nervous system and turn it into your ally so you can turn your blind spots into fuel for where you're going.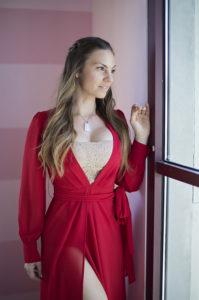 Getting Clarity on who you are and what you want out of life:  No more feeling lost, confused or unable to envision who you want to be. I will help you create all of that, sister.
Gain Unstoppable, life-lasting Confidence: I will bring you science-backed approaches to gaining confidence, saying adios to all of your insecurities, and shining bright because of it.
Taming Fears and Getting rid of Social Anxiety: No more allowing yourself to stay under the radar and making excuses for it. I'll teach you how to step out and do it feeling alive!
Create Loving, Passionate and Meaningful Relationships: It doesn't matter if you're single or in a relationship, or if you want to create more meaningful family or business/career relationships. We will unlock the keys to creating thriving relationships filled with love, passion and positive energy.
Bring your Purpose to Life and Thrive from Now On: If you've ever wondered what your life's purpose is, or if you know what your purpose is but aren't quite sure how to take it to the next level, this is your time. Get totally clear on your life's purpose and know what you've got to do to bring it to life.
Implement and Stay Consistently Aligned from Now On: We will take it all up, transforming everything you've learned and turn it into an action plan to implement and stay consistently aligned, from here on out. No more starting, stopping, hoping and wishing on where you're at or where you're going. You can look forward to creating a path to lasting results.
You are ready. I can feel it. 
You're tired of being tired.
You're over the feeling of lacking confidence.
You have had enough of your own self and ready to knock down all the barriers that have been building up for way too long.
It's your time, sister.
Rise up, invest in yourself because you are so damn worth life-long happiness.
Now, I want to know more about you. I want to hear what challenges you are facing, what fears you are clinging to and how you are ready to make a change. Let's set up a FREE Clarity Call, as I find it's so helpful to meet the person behind the screen, connect on a deeper level and see if we would be a good fit to work together.
You have two options:
Option 1: Continue to go down this path alone, stabbing at self-development in the dark and keep on the same playing field.
or
Option 2: Gain the coaching, tools and the accountability, so you can level-up even faster, stepping into the new you quicker than you can imagine.
(Pro tip: You want to choose Option 2!)
Here's what one of my clients has to say about her decision to hire me as a coach: